Hold NIO Before the Third Snapshot on April 9th to Receive NIOX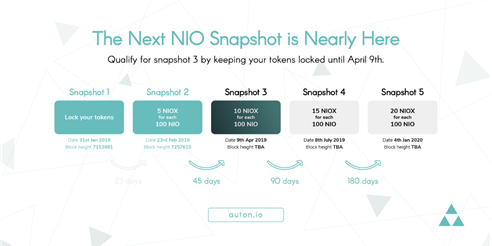 On April 9th, the third snapshot for NIO Staking Rewards will begin. To receive NIOX tokens at the end of this campaign, users simply need to hold NIO tokens in a non-exchange wallet and keep them there until the end of the staking period. NIO cannot be removed from the wallet during this period in order to qualify for the NIOX distribution. The longer NIO is held this way, the greater the NIOX Staking Reward will be the end of the campaign.
For more info check the link below.
https://steemit.com/nio/@autonio/the-next-nio-staking-rewards-period-is-about-to-begin